Our trip went super smooth and I feel like our park touring plan helped with that. I always try to be methodical when making my way through the Disney parks, not to be jumping around from section to section, and maximizing our time in each land or area. It got to the point this trip where I had to put time restraints on certain areas, and I know I could do this because we go so often that if we didn't do everything, it wasn't the end of the world, we'd be back again one day. So here is how our touring plan went…hopefully this will help you create a plan to help you navigate through the parks
EPCOT–  We started our park days in EPCOT on Monday after a delicious breakfast at Topolino's at the Riviera Resort.  I'm so glad that our dining reservations worked out this way because it was so easy to take the Skyliner over to EPCOT after breakfast and enter through the International Gateway.  Once in the park, I headed to Guest Services and got everything squared away for Griffin's Disability Pass and then we ventured through World Showcase to Future World to begin our day.  We were able to experience Soarin', Living with the Land, The Seas with Nemo & Friends, SeaBase, Journey into the Imagination with Figment, Test Track and Mission Space: Green Mission.
If you are a Disney Visa Cardholder, don't forget to check out the special photo pass area next to Journey into the Imagination. 
Once we were finished with the front of the park, we headed back to World Showcase.  We always start in Mexico and work our way around.  We rode the Gran Fiesta Tour (with the Three Caballeros) and Frozen Ever After, ate some yummy food and were ready to leave the park after a long, hot day.  Spaceship Earth was saved for our last ride of the night, since we were headed to the bus stop and the attraction is located at the front of the park.  I didn't see too many characters out and about.  Joy, from Inside Out and Winnie the Pooh were hanging out for a little bit by the Butterfly Garden near Future World West.  But, all of the amazing topiaries for the Flower and Garden Festival certainly made up for the lace of character entertainment.  We loved wandering around checking out all the characters!!!  
Magic Kingdom– Oh this day was HOT from the start.  The "feel like" temperatures soared to 100 degrees and we couldn't keep our water bottles filled fast enough.  Thankfully the Cast Members at the Quick Service locations are great to give cups of ice and ice water when asked.  We took extra water into the parks and the ice cooled our stainless water bottles down super fast.  As we were entering the park, all of the Princesses appeared at the railroad station overlooking Main Street. As we started making our way up Main Street, Tinkerbell was coming down on a cavalcade. We had planned to take a swim break mid day, since it was really easy to head back to the Grand Floridian, so our morning was focused on Adventureland, Liberty Square and Frontierland.  We were able to ride Magic Carpets of Aladdin, Jungle Cruise, Pirates of the Caribbean (with a sighting of Jack Sparrow outside), the Haunted Mansion, Big Thunder Mountain Railroad (two times, in a  row, walk on with no wait!!) and Splash Mountain (where we got soaked!!).  We called it a morning and headed to the monorail to get back to the resort to cool off and swim.  The pool felt AMAZING!!!
After we showered, we made our way back to the Kingdom for dinner at Tony's Town Square and then we headed straight to Seven Dwarfs Mine Train. We didn't have a ton of time left, so we prioritized what we wanted to do and fit in the Many Adventures of Winnie the Pooh, Peter Pan's Flight, Buzz Lightyear's Space Ranger Spin, the People Mover and Space Mountain. One of the things I found pretty cool with not having FastPass was that many of the attractions are linked to the DisneyPlay app, where you can play games via the app while waiting in line. I don't think I have ever waited in the standby queue for Peter Pan and it was really neat to walk through the house, see the bedrooms and be part of the story!!! The games passed the time we waited and made things much more entertaining!
Disney Springs– We took a break mid-week to spend some time at the resort and in the evening we went down to Disney Springs.  I could easily spend an entire day here and it would be a dream to not have my kids with me (lol!) so I could eat and shop my heart out!!!  It's a shopper's paradise with so many amazing stores.  My kids don't overly like shopping, so after about 3 stores, the novelty wore off.  But we did hit up some favorites, like the World of Disney, which has just about everything Disney you can possibly think of, the LEGO Store, which had a line to get into but made for a great shopping experience once inside and my favorite, Disney Days of Christmas, where I always purchase an ornament to remember our trip.  There are an endless amount of shops throughout the district and if you didn't want to pack for your trip, you could easily purchase everything you needed for your trip at Disney Springs!!  One of these days, I'll really get to fully enjoy all of it in one swoop!
Hollywood Studios– My alarm was set for 6:50am this morning because my sole purpose in life that morning was to get our coveted boarding pass for Rise of the Resistance.  You can read all about my tips for doing this HERE, which worked like a charm!!!  We were in group 68, which resulted in us boarding around 1pm.  When we got to the park, we first caught the 10:30am show of For the First Time in Forever: A Frozen Sing-Along Celebration.  This was the first time I've ever seen the show- boy mom problems- and it was awesome!  My boys actually enjoyed it and my 10 year old was actually not too cool to sing.  I loved every second of it!!!  We then headed over to Mickey & Minnie's Runaway Railway, which is an absolutely adorable ride and so fun for the entire family.  The animation is amazing.  Then it was off to Toy Story Land, which was our first time experiencing this section of the park.  My kids eyes lit up at the first sight of the larger than life Woody!!  Our first stop was Toy Story Mania, which is probably one of my favorite attractions- my competitiveness definitely comes out!  Then we hit Slinky Dog Dash which is so much fun to ride, smooth and great for younger kiddos as a first coaster ride.  We were getting close to our boarding pass time for Rise of the Resistance, so we headed to Galaxy's Edge and rode THE most epic attraction Disney has ever created.  I can't even put into words how amazing this ride is.  You just have to experience it for yourself.  We then tested our skills at flying the Millennium Falcon, which were poor but super fun, lol.  After a few photo stops and sightings of Rey, Chewy, Stormtroopers and Kylo Ren, we had some time to kill before our reservation at Oga's Cantina, so we hopped back to Toy Story Land to ride Alien Swirling Saucers.  This is a cute ride, I wouldn't wait in a long line for it, as all is does is whip you around.  But I can't resist the Toy Story Aliens!!  Back to Batuu for our reservation at Oga's Cantina when it started pouring.  The rain felt amazing on another blazing hot day.  You can check out my dining post for my review on Oga's.  Highly recommended!!  After our mid-day break, we headed to Grand Avenue to catch Muppet Vision 3D, which is a classic and a favorite of mine.  This is the first year my kids really liked it (and all the 3D shows for that matter).  I then took the kids over to Echo Lake to ride Star Tours and do some shopping at Tatooine Traders before we had dinner at Sci-Fi Dine-In Theater.  Finally, after dinner the last thing that the boys wanted to do was Tower of Terror.  It was close to an hour wait but I had been promising them all day that we'd do it, so in line we went.  Since the line was spaced out, it extended back to the area where Fantastic is usually shown.  They had some great Disney music played and we enjoyed the sunset and tunes.  The time passed pretty quick and we were finally leaving the park close to 9pm (an hour after published closing).  Another solid park day and three tired kiddos!!!
Animal Kingdom– We saved this one for last and I'm glad we did because the weather was perfect!!  Animal Kingdom is always hotter than the other parks and we had lower temps and lower humidity on Friday, which made for touring this park much more enjoyable!!  We were dragging in the morning, so we didn't get to the park until about 2.5 hours after opening.  We headed straight to Pandora to ride Na'vi River Journey and Flight of Passage.  If you can only do one of these, I DEFINITELY say do Flight of Passage.  It's mindblowing!  We caught Rafiki and Simba on a floatilla and enjoyed Mickey pretzels for a snack, before heading to Africa to take a ride through Kilimanjaro Safaris and walk the Gorilla Falls Exploration Trail.  During the COVID lockdowns, the kids and I watched an episode on Disney+ with Geno the gorilla celebrating his birthday, so I wanted to show them the real, live Geno in person.  They were so excited to see him and his family!!  We then made our way to Asia, for a ride to the top of Mt. Everest to search for a Yeti in Expedition Everest and then circled our way down to Dinoland USA to ride Dinosaur.  My younger two weren't too sure about this one.  It's dark, loud and bumpy and the dinosaurs are big and pretty realistic!!  On our way back up to Asis, we stopped on Discovery Island and saw It's Tough to Be a Bug, which is a very sensory 3D show.  An early dinner was enjoyed at Yak & Yeti (love that place!!) and then our final ride of the day was Kali River Rapids (the warning: you may get soaked should be taken seriously).  We wrapped up this park day fairly early, as the park closed at 6pm.  This gave us a chance to swim and start packing up for our departure on Saturday.
The pace of moving through the parks this trip was great! Not having FastPasses allowed us to do things more methodically and I liked not having to be somewhere at a certain time. The lines were very manageable and people maintained a safe distance for the most part. Don't forget, Disney allows you to bring drinks and snacks into the parks. We took lots of breaks to hydrate and snack as we made our way throughout the day. And as of today, May 15, 2021, masks are currently not required in outdoor spaces!!! You will still need to wear one indoors and on attractions, but this is another exciting step as we get back to a more normal state!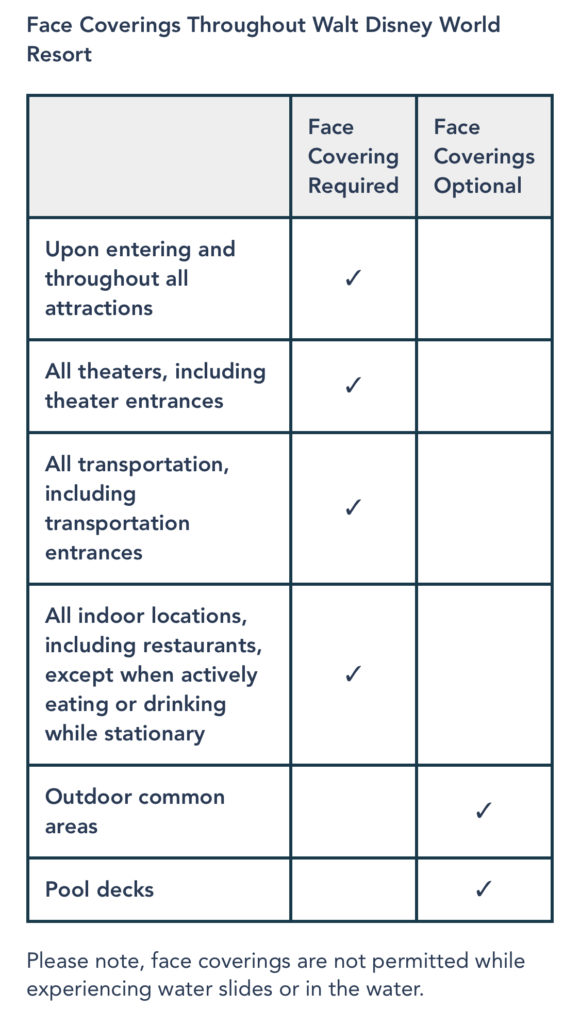 You can read more details about this HERE.