I love getting feedback from my clients when they go on vacation! So when I received the following resort review from a recent guest who stayed at Atelier in Playa Mujeres, Mexico, I begged her to let me post this, because this is some SOLID feedback and an honest resort review. And it makes me want to pack my bags right now and say "Adios!" to Central PA and board the next flight to Cancun!!! Enjoy this one….and let's then begin planning your getaway to Atelier (adults only) or Estudio (family friendly!)
We stayed at Atelier from June 30, 2022 to July 5, 2022, in two rooms, Room 2585 and 2588, both Inspira Rooftop Suites. We are a married couple (48 and 52) and brought our 19 year old daughter and her 19 year old best friend (this was their HS graduation gift – postponed because of Covid). We have been to 10-15 All Inclusive Resorts in 3 countries – Mexico, DR and Jamaica. We had never heard of Atelier but our Travel Agent recommended it and it looked incredible. After much research, reading reviews and looking at photos, we decided to try it. SOOO incredibly happy we did. We had the best time. This resort is in our top three for sure. We will definitely go back.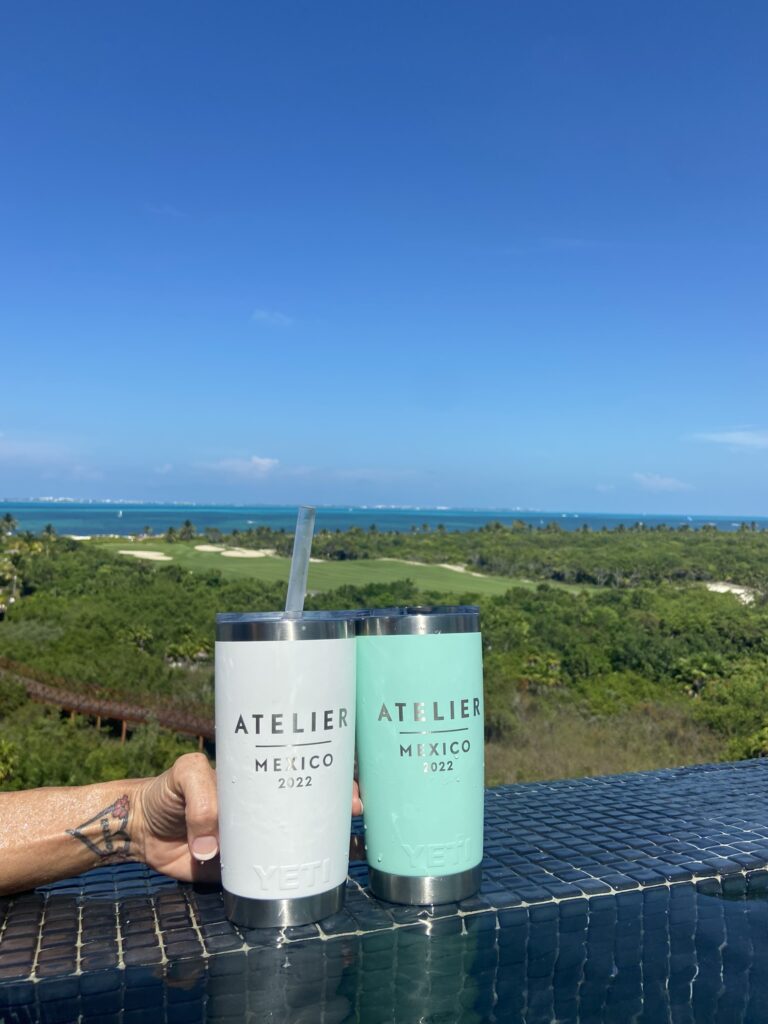 I will address the pros and the cons. The drive to the resort was easy – took about 35 minutes. Upon arrival at the resort the first thing I noticed was different from all other resorts we have been to. No one met us with a drink and a cool towel. That has always been the norm so I was surprised. However, we were quickly ushered in and into the Inspira lounge where we had our choice of several things to eat and a drink. So it definitely worked out because we were hungry and that hit the spot. We arrived around noon – they did our paperwork, which went quickly and we discovered our rooms were ready – what a wonderful surprise!!! Before we were taken to our rooms, we sat down with a concierge who showed us the map and explained where everything was – which was great – the resort is quite large. If you have issues with
walking any distances, this is not the resort for you. We love to walk around and explore so it was a plus for us. Then as she finished showing us the map, she began what I knew was coming. She said they had a welcome breakfast and as a thank you for going, she would give us free spa treatments, etc. This is a timeshare presentation and being part of the Atelier FB group, I was prepared for this. I said very politely "I know this is your job but I'm going to be very honest, I'm not interested in the presentation but thank you very much." She said she appreciated my honesty and that was it. About 3 times over the trip, others approached with "Did you just arrive?" We were just very polite and told them we were good. They were not rude or pushy like people had said they were. We were very kind and just said No thank you.

** The best parts of our trip **
BUTLERS – We were unaware that we had butlers as part of the Inspira package. Apparently it only started in April. We have never had butlers before. I don't know that I can go on vacation without them again lol. Our butlers were Guillermo (Memo) and Joel and when I say they were amazing – that doesn't seem to do them justice. They were extremely professional and kind and went OUT of their way to make our stay perfect. They set us up on a group chat and they kept us updated all week. They sent us the daily activities every morning. They set up our reservations for dinner every night. They reserved chairs at the pool, beds at the beach – we brought our own towels – they would pick them up and take them down and set them up. I honestly feel like they anticipated what we needed – no sooner did we think of something and there they were. One day our daughter got sun poisoning and was so sick – they went off the resort and brought her back Pedialyte. They were both TOP NOTCH, HIGH CLASS and we could not have been happier with being lucky enough to get them both. Request them – you won't be sorry – we will 100% request them next time we go.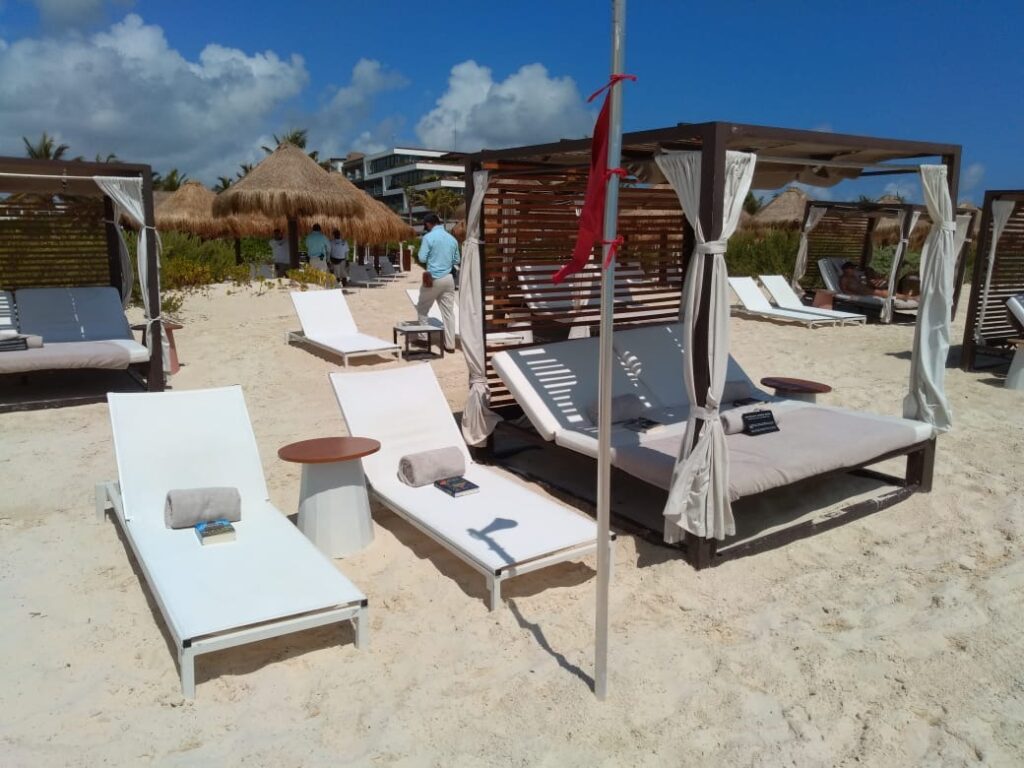 ROOM – WOW WOW WOW!!!! Our room was incredible! We were on the Estudio side -meaning we looked over onto the Estudio pool but the way the resort is set up – you can see the ocean from the whole rooftop (I believe). It was GORGEOUS – we spent so much time up there!! The room was set up so nice and housekeeping did a wonderful job keeping our room clean. We loved the little snack set up. Loved the tub and the shower. Loved how you could close off the bathroom if you wanted but we left it open and it made the room is so big and spacious. Loved how the bed was off center of the room and faced the huge windows! The bed SOOO comfortable. I have back issues and I did not have pain in my back all week. We slept like babies, sometimes later than we planned. And there were plenty of pillows. This seems minor but we really loved the motion sensor lights under the beds. It was just the perfect amount of light if you got up in the middle of the night and just such an awesome touch. We are spoiled and probably wouldn't get any other room. We also LOVED the bracelets and not having to remember a room key!! That is genius and I personally loved that the bracelet was actually attractive looked like jewelry!

STAFF – Outstanding!! Everyone we encountered was SO NICE! They all had smiles on their faces. They were extremely kind and made you feel like you were the only ones there. And WOW did they bust their butts!! They hustled!! I wish I had taken better notes and remembered more names but some that stood out – Carlos, the pool concierge – THE sweetest guy!! ALWAYS willing to help us – he was always ready for us when we got down there (thanks to our butlers) and he made us feel so special. Angel at the beach bar took good care of us and makes great drinks!! MaryJose at the SkyBar – what a doll. I'm sad I didn't get to say goodbye to her. She took very good care of us!! Shout outs to Jordi, James, Luis and Jonathan at the pool!!

SKY BAR – this was a perk for Inspira customers and we LOVED IT! WHAT a view!!! Such a nice quiet secluded spot and perfect to just hang out and look at the view.

POOL – we spent most of our time here because it was nice to just chill. We loved how the chairs were in the water all along the edge. Some places only have a couple that way and they are hard to get.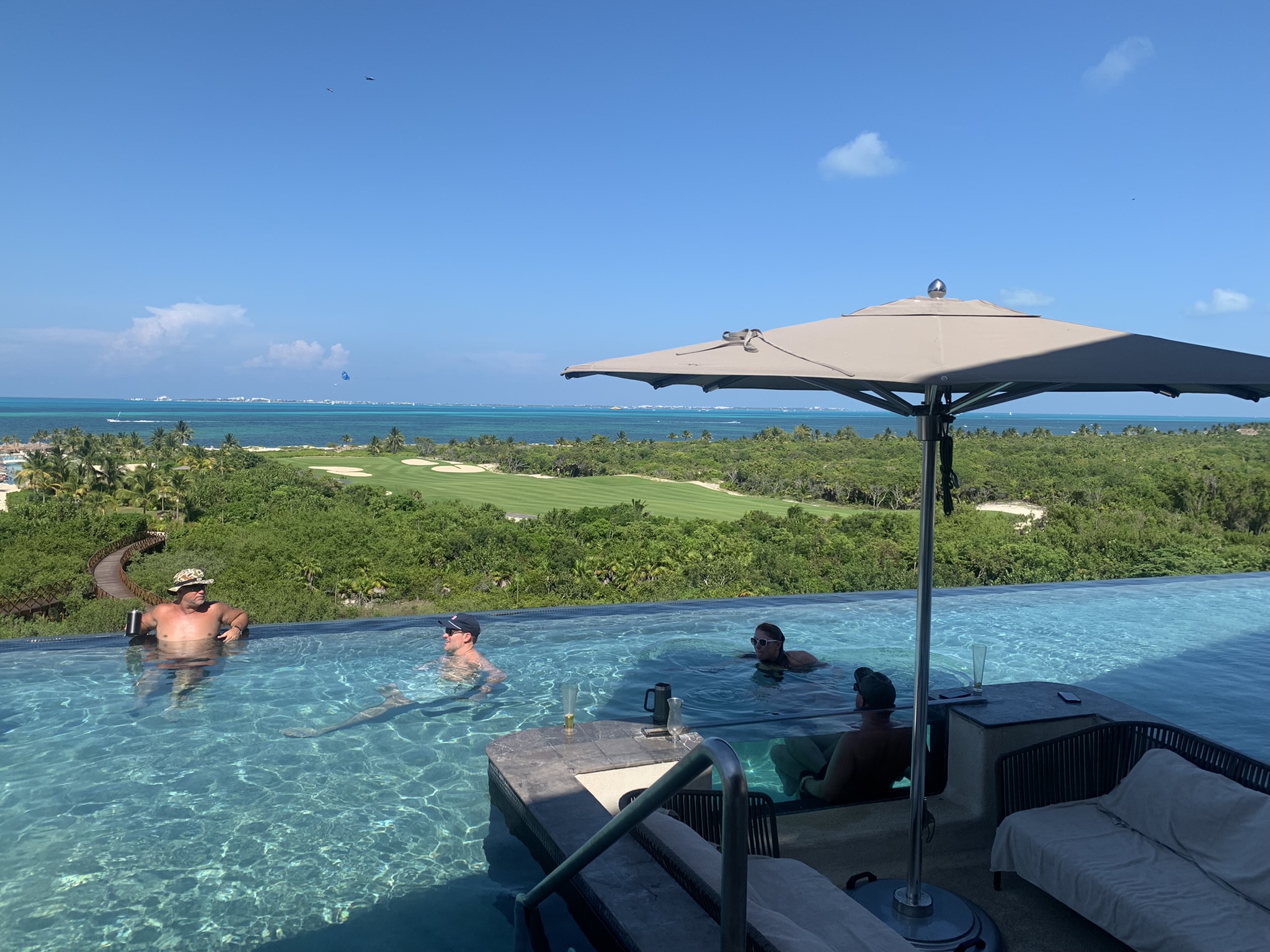 One thing I will say – and I won't call it a negative, just something to be aware of this is a very quiet resort. They told us they were at 75% capacity and it didn't seem that busy. There were not as many activities as we are used to BUT I will say we also didn't seek them out. So maybe they were happening and we just didn't see them. There isn't an "entertainment team" so to speak that goes around and tries to get you hyped up. This isn't a party resort. We are ok with that but some people may be looking for a different vibe.

BEACH – Unfortunately this is the worst part in our opinion. The one plus for us is there is a very long stretch to walk, Other than that, the seaweed is bad (at least this time of year) but this is NOT the fault of the resort. People like to blame resorts but this is Mother Nature. Atelier did their best to keep it cleaned up. That being said there isn't a lot of clear swimming water. This wasn't a big deal for us as we tend to enjoy the pool more. But we do like to be able to go out and and take a dip in the ocean and we did that but if the beach is at the top of your list – this may not be what you are looking for.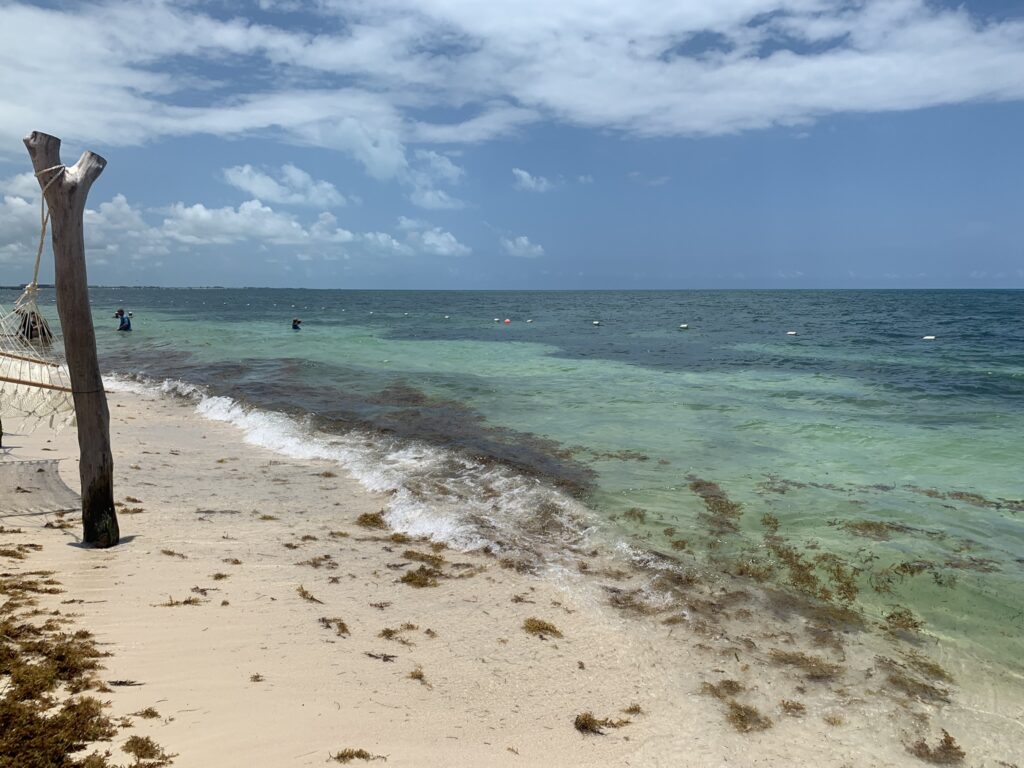 FOOD – We are not foodis but certainly appreciate good food. We thought the food was ok. The buffet was a bit of a disappointment unless you got the hot food to order. But that's kind of normal. The banana waffle explosion at Suspira was to die for. YUM!!! The food around the pool was yummy but that's not culinary specialties but yeah – we had many spring rolls that week. We tried Takeshi, the steak house, Mercado, Suspira, the Italian. Everything we had was good – with probably the best being the Italian and Takeshi. We didn't do the dinner at Maria Delores because we are not the kind that enjoy a two hour slow dinner – even though it was part of our package. We also didn't try any of the restaraunts at Estudio. We frequented the coffee shop often and were very pleased with the specialty drinks we got. We also LOVED Alba – do not miss this!!! They have freshly made juice drinks and they are SOO yummy!! Someone told me Carrot juice would help me tan better – you can best believe I was trying that LOL!! Don't skip Alba!

ALCOHOL – We were very happy with the selection of alcohol and the drinks. They were all made well!!!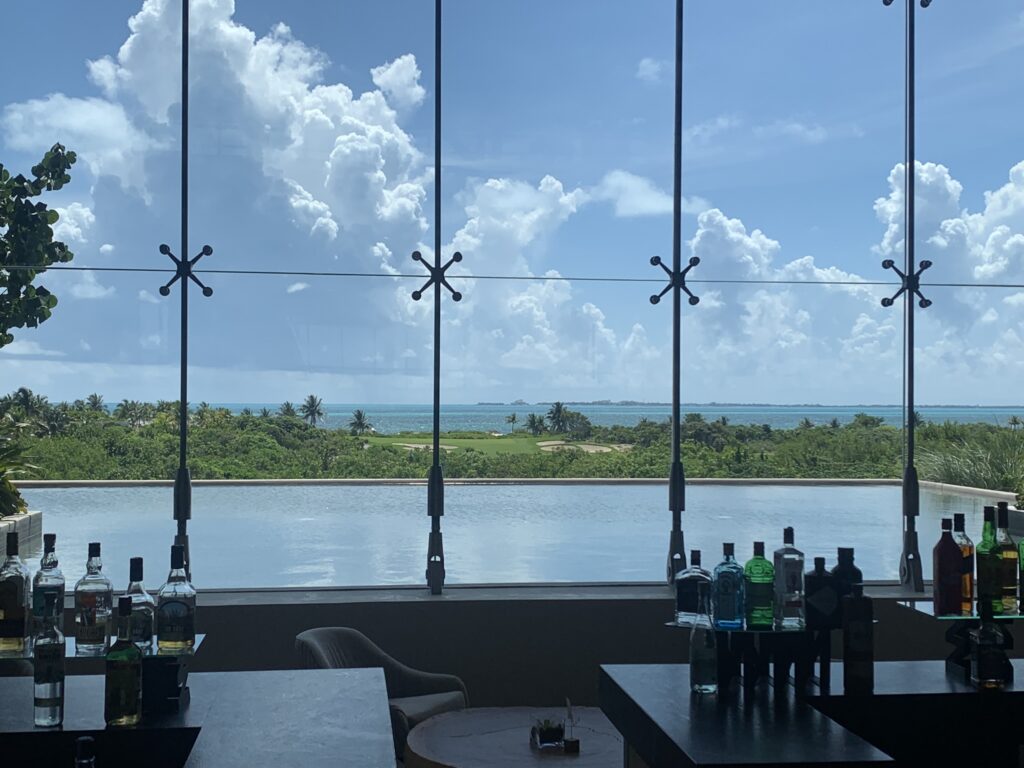 GYM – Excellent gym!! I was very impressed with the amount of equipment, how much room there was and the selection. There was something for everyone. The only complaint was they would run out of towels but maybe we just didn't catch them at the right time.

We would 100% recommend this resort and will definitely go back. It was hard to leave.
So there you have it!! A real life review, from a real client!! Are you itching to get away to Mexico, the Caribbean or anywhere else in the world? Then I definitely want to know more about your IDEAS!