We ate REALLY good on this trip!! Going into it, we thought we were just going to wing it with Quick Service, but, then as things started progressing with planning, I knew I couldn't let that happen. So, here's how our culinary journey went…
Narcoossee's– For my mom's birthday dinner, we ate at Narcoossee's our first night.  This is one of our favorite, special spots to eat, as well love the food and the atmosphere.  We were seated at a table next to the window which had the perfect view of Cinderella's Castle.  I enjoyed the Blackened Salmon, my mom had Sirloin and Scallops and the kids enjoyed Mac and Cheese and Chicken Tenders.  One of the things we never pass up here is dessert.  My mom and I shared the Almond Crusted Cheesecake (which they decorated to celebrate the occasion) and the kids had Nemo Cupcakes and S'mores Tarts.  Overall an A+ meal and we rolled our stuffed selves out of there and back to our room!!  Thankfully we didn't have far to go!!!
Topolino's Terrace– When I couldn't get a reservation for this one at the 60 day mark, I went into stalk mode.  I needed to have breakfast here, as (1) I knew that it would be a great chance for my kids to see Mickey, Minnie, Donald and Daisy, (2) I have been wanting to get up to Topolino's to check out the restaurant and the views, and (3) I have been wanting to try this breakfast because if reservations are this hard to get, it must be good.  Ohmigoodness, it was fantabulous!!!!!  The characters were so entertaining, the food was fantastic and the overall experience was a 10/10.  The meal started off with a pastry basket that consisted of croissants, mini chocolate chip muffins and apple danish.  All were delicious and I could have made a meal of just those.  We enjoyed Mickey Waffle Dippers, scrambled eggs, and Sour Cream waffles.  Everything tasted amazing, was presented beautifully and I can't rave enough about this place.  I got my reservation the night before so if you do not get a reservation at the 60 day mark….DO NOT GIVE UP!!!!  I had an alert set on MouseDining.com to help me look for reservations and it came though.  
Flower & Garden Festival– Oh how I adore the Epcot festivals that bring out new flavors!!!  I always have a big long list going into the events and then only end up getting a couple of things.  First stop was Trowel & Trellis for the Grilled Street Corn on the Cob.  Delicious!!!  As we wandered our way through World Showcase, the kids were getting hangry and I realized it was 6:30pm and they hadn't eaten dinner yet (anyone else lose track of time in Disney?!?!).  Thankfully we were in Italy and Primavera Kitchen had Margherita pizza that we devoured.  For dessert, I made my ritual stop in Japan, to the Hanami booth to get Frushi, which is made up of strawberry, pineapple and cantaloupe wrapped in sweet rice and pink soy wrap.  It's so yummy and one of my favorite desserts.  I get it every festival!  The kids were less adventurous, so they enjoyed ice cream in France from L'Artisan des Glaces.  I could seriously eat ALL DAY in Epcot!!!
Gasparilla Island Grille– This was our go-to each day for breakfast at the Grand Floridian.  I loved that I could place a mobile order from our room and run down and pick it up and we could eat in the room while getting ready to head out to the parks.  Our favorites were definitely Mickey waffles- how can you not resist these gems?  My oldest kiddo also loved the bacon, egg and cheese croissant breakfast sandwich with tater tots.  He had that every day we ordered and it held him over until lunch.  Towards the end of the week, I was getting sick of the greasy/heavy foods, so I tried the yogurt/strawberry/granola cup and it was really good and the perfect size.  Enjoyed that two mornings.  One thing to note is that when we were there, they still did not allow guests access to the self-serve fountains in the restaurant.  They were still filling the cups for you.  But, over at Beaches Pool Bar & Grill, you had access to the self serve machines.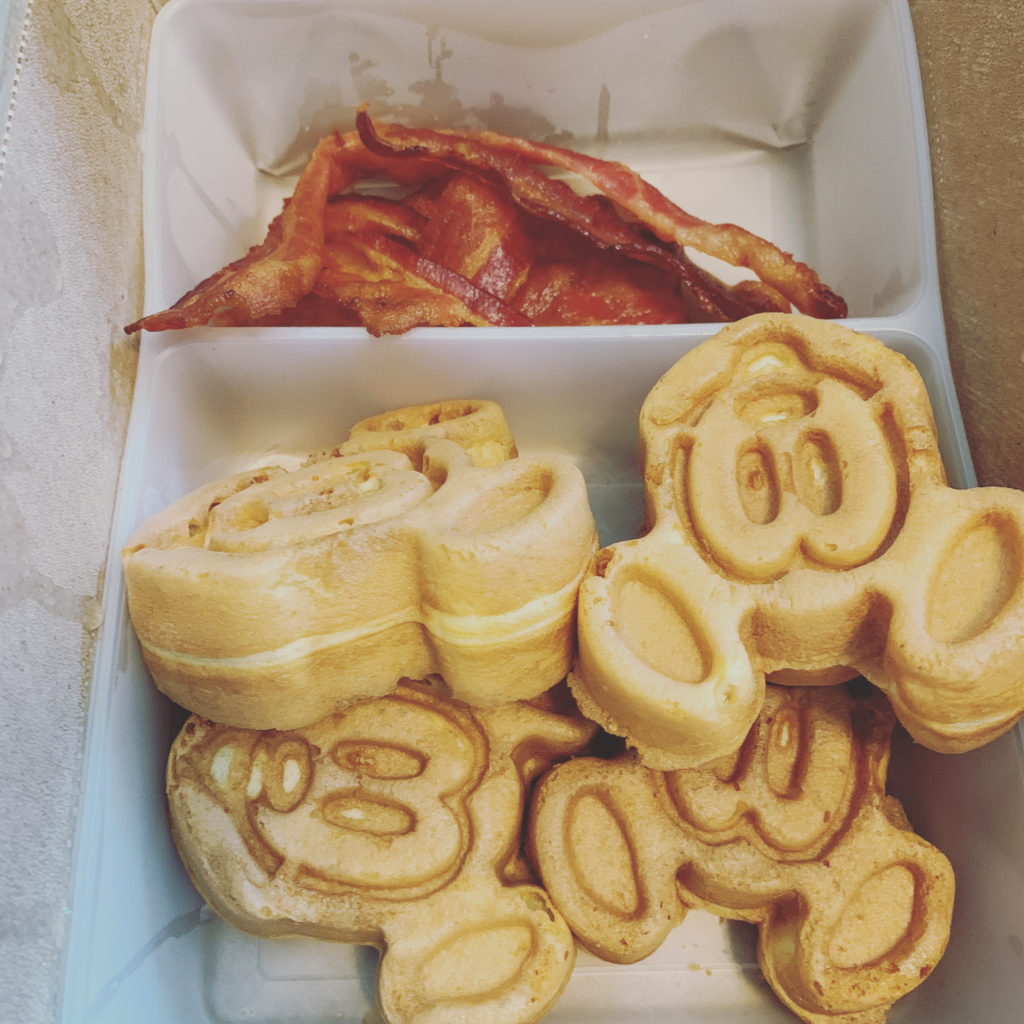 Tony's Town Square– After a much needed mid-afternoon swim, we headed back to Magic Kingdom and started the second half of our park day with dinner at Tony's.  The atmosphere is very family friendly here, themed after Lady and the Tramp.  Food here is your typical Italian fare, nothing earth shattering, but definitely great for the pickiest of eaters.  My kids were all in the "clean plate club" and my chicken parm hit the spot and fueled me for an evening of riding rides.  The desserts were really cute too, for the kids.  I was too stuffed to enjoy.  I loved the cupcake topped with "spaghetti and meatballs".  
Chicken Guy– It wasn't until about 8pm when we finally got to eat at Disney Springs so we wanted something quick.  Chicken Guy is located in Town Square over near Planet Hollywood.  We found a table and were able to mobile order through their website.  There's definitely better, amazing places to eat at Disney Springs but now I can check this one off my list.  The food was good and I was really in the mood for a salad that night, so the Caesar salad hit the spot!!!  The others enjoyed chicken tenders, chicken sandwiches and grilled cheese.  Everything was really good!!  Food was prepared quick!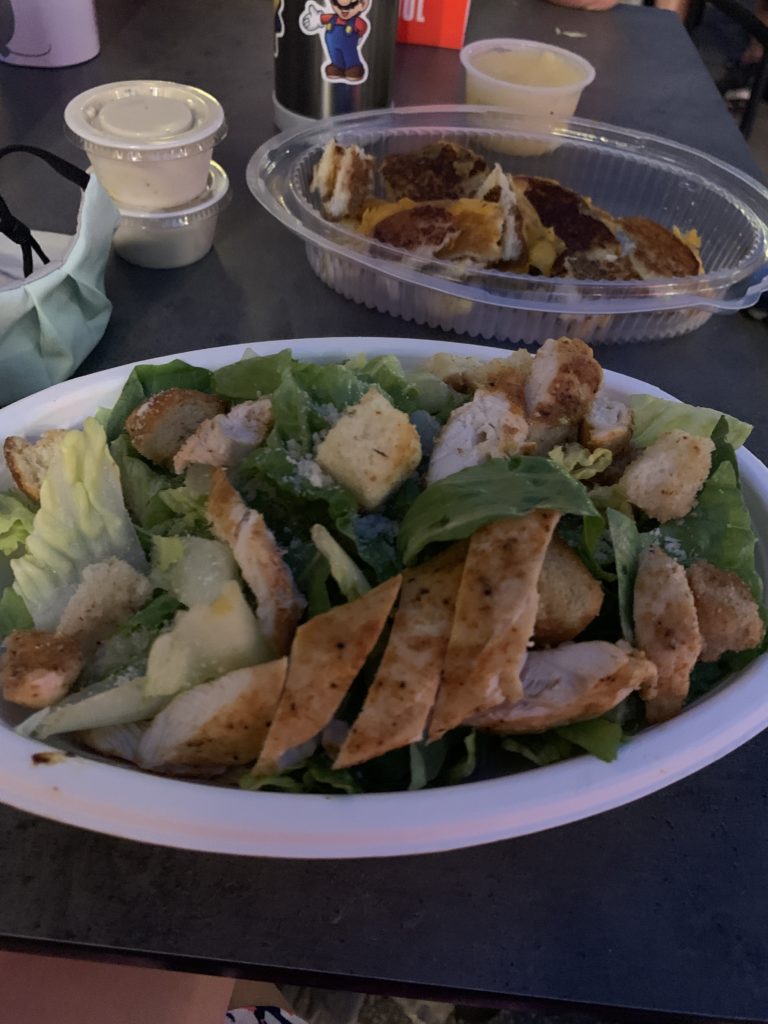 Oga's Cantina– I was really excited to check this place out and it did not disappoint!!!  The atmosphere was cool and quirky and just a bit odd.  Our waiter was super cool and my kids are still talking about him!!  It's easy to miss this little hideaway in Star Wars: Galaxy's Edge in Hollywood Studios and you definitely need to make a reservation.  With a 2 drink per person maximum and 45 minute limit, don't plan on spending a ton of time there.  It's the perfect stop for a mid-day break.  We enjoyed the Batuu Bits to munch on (which I did not find overly spicy at all!) and then our drinks were super fun!!  I wish I could tell you what they were called but looking over the menu again, I think our server made them up, lol!  One kiddo had something that he called a "strawberry lemonade" and it had popping pearls in it which resembled a lava lamp.  Mine was a rum based concoction, that was pink and it had glitter.  I'm not going to lie, I tuned out when he said it had glitter.  Disney, Star Wars and glitter…what else does a girl need?!?!  It smoked and looked awesome and he shined his flashlight on it and the glitter really sparkled.  Another kiddo had Oga's Obsession which isn't a drink at all (to our surprise) but rather a dish of jello.  He found it really weird and I ended up eating that, it was really good!!  A mixture of lemonade, cotton candy flavor, blueberry popping pearls, dried fruit and pop rocks.
Sci Fi Dine in Theater– For dinner in Hollywood Studios, we went to an oldie but goodie.  The kids sat in the front seat of the "car" while my mom and I enjoyed the back seat view.  Everything is super kid friendly here, dark and somewhat loud.  My only gripe is that it's really dark so seeing what you are eating can be a bit of a challenge.  I had the oven roasted turkey sandwich and it was really good.  Kids enjoyed mac and cheese and chicken tenders.  What else is new, lol!
Yak and Yeti–  Ahh my favorite!!!  No trip to Animal Kingdom is complete without a meal at Yak & Yeti.  I absolutely love this place and the Honey Chicken calls my name each time!!  The fresh flavors do not disappoint and my plate was clean in a matter of minutes.  The atmosphere in the restaurant is very serene and a nice break from the craziness of the park.  
Overall, the food did not disappoint this trip and it was nice not gorging myself with food the entire time.  I feel like I actually ate like a normal human on this trip and didn't over do it like in years past- blaming the heat!!!  But everything definitely tastes better in Disney!!! And the one thing I love about going to Disney over and over is that no two trips are the same when it comes to dining because there are SO many options!!!