Right now, the most coveted reservation in all of Walt Disney World is found at Disney's Hollywood Studios in Star Wars: Galaxy's Edge. Getting a chance to experience Rise of the Resistance is the top of most Guests vacation bucket list and hopefully these tips will help you be successful in your endeavor to escape Kylo Ren and his crew.
First- How do you join a boarding group??
This is the most critical step in the entire process, and can make or break your day. You will need to do everything from the My Disney Experience app the day you wish to visit the park. Make sure you have the app downloaded to your smartphone and be logged into the app BEFORE the distribution window opens. Currently boarding groups are distributed at 7:00am and 1:00pm. And only one person from your party needs to do this step, otherwise you will jam the system!
From the home page, you will want to scroll down until you find this section "Star Wars: Rise of the Resistance-Request Access with Virtual Queue"-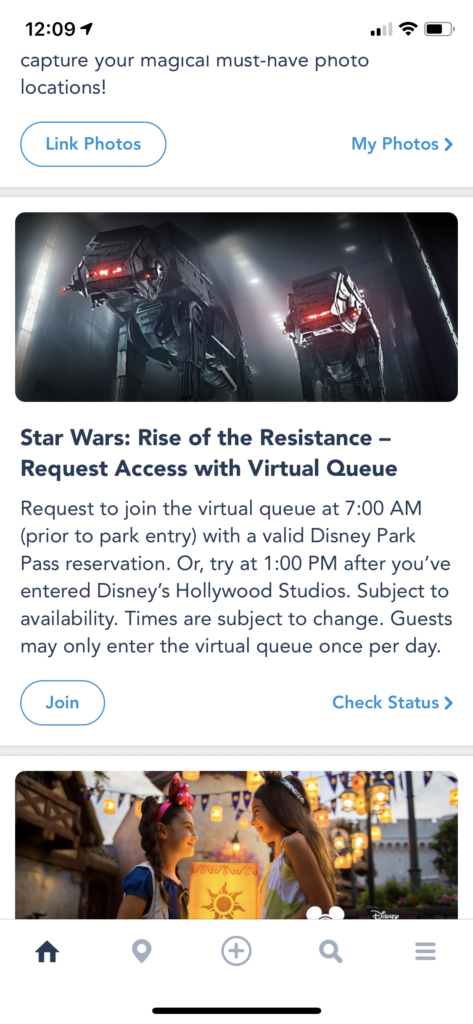 I recommend doing this a 1-2 minutes BEFORE the boarding group opens (ie. 6:58am) and continue to refresh until you see the join button. On an iPhone, you can do this by pulling down on the screen. As soon as you see that "Join" button appear, hit it! If the queue is already filled up (which is has been known to do VERY fast), it will not show up. The nice update Disney released a few months ago is that you no longer have to be inside Hollywood Studios to request access to this attraction. You can do this from the comfort of your resort room or while at breakfast!
So once you hit that "Join" button, the app will add all of your Friends & Family linked to your My Disney Experience app. My tip: if you have visited WDW with others in the past and they are not along on this trip or you don't have future trips planned with them, you might want to delete them from your account in advance so that you don't lose valuable seconds unchecking the boxes next to their names. You can always add them back in later if you do decide to travel with them!
When you successfully get placed into a boarding group, the app will show you which one you are in: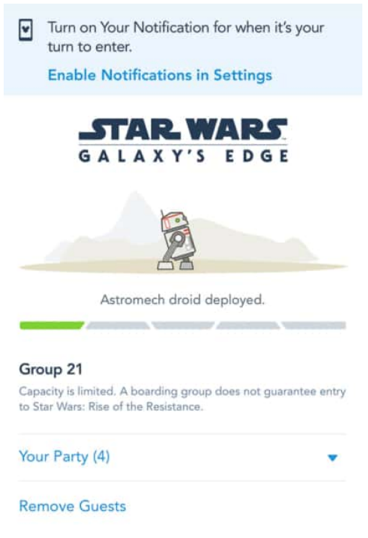 And, don't fret- if the 7:00am boarding group fills up, you can repeat this process again at 1:00pm, just follow the steps above. NOTE: As of 1/3/21, Guests "hopping" from another park are not able to join the Virtual Queue. Only Guests who begin their day in Hollywood Studios.
So you have your boarding group (yay!!!) but, how do you know when it's your turn to ride? You'll want to make sure you have notifications on in the app. You can also look at the "Star Wars: Rise of the Resistance-Access by Boarding Group" screen in the app to see the current status of the land and what groups are now boarding. There's not an exact time to board, like how FastPasses work, so just be sure to monitor the app throughout the day to see where things are at. Once your group is scheduled to board, you will have an hour to ride. Between the notifications and checking the app, that will cover all your bases.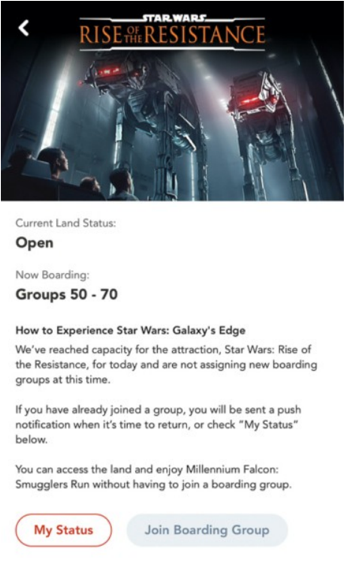 Having experienced this ride shortly after it opened, I will say that even though the above may sound daunting, it is DEFINITELY worth it!! The ride is unlike anything else and as much as I would love to give you spoilers, I want you to get to Hollywood Studios to experience it first hand!! Our free planning services can put you in the middle of all the magic- just fill out THIS FORM and we will be in touch!