It seems like everyone has an opinion on "how to Disney with kids" but is it really a place for adults too? My husband and I recently started slipping away to the most magical place on Earth without our small people and I can tell you that I believe the answer is yes! Over the years we have been to Disneyland, Disney World, and on 3 Disney cruises with our children and enjoyed every minute of it but we started to ask ourselves what else we were missing. This question, along with the fear of taking our high-risk toddler out during COVID, spurred our decision last year to give it a shot on our own. We also told ourselves that it would be smart to check out the parks for safety reasons before we brought the kids over Christmas (see what we did there? Responsible parenting!)
In a nutshell, there are so many things that can be missed when you view the parks through the perspective of a parent, always looking down and counting the small people around you. There is a sense of magic and wonder that is found when you can truly relax and take everything in at your own pace. It is almost like being a child again and experiencing everything for the first time. While we love traveling with our children, there is something to be said for the ability to stand and truly watch a show, interact with characters, or simply sit and look around at all the details that Disney sets into their parks and resorts.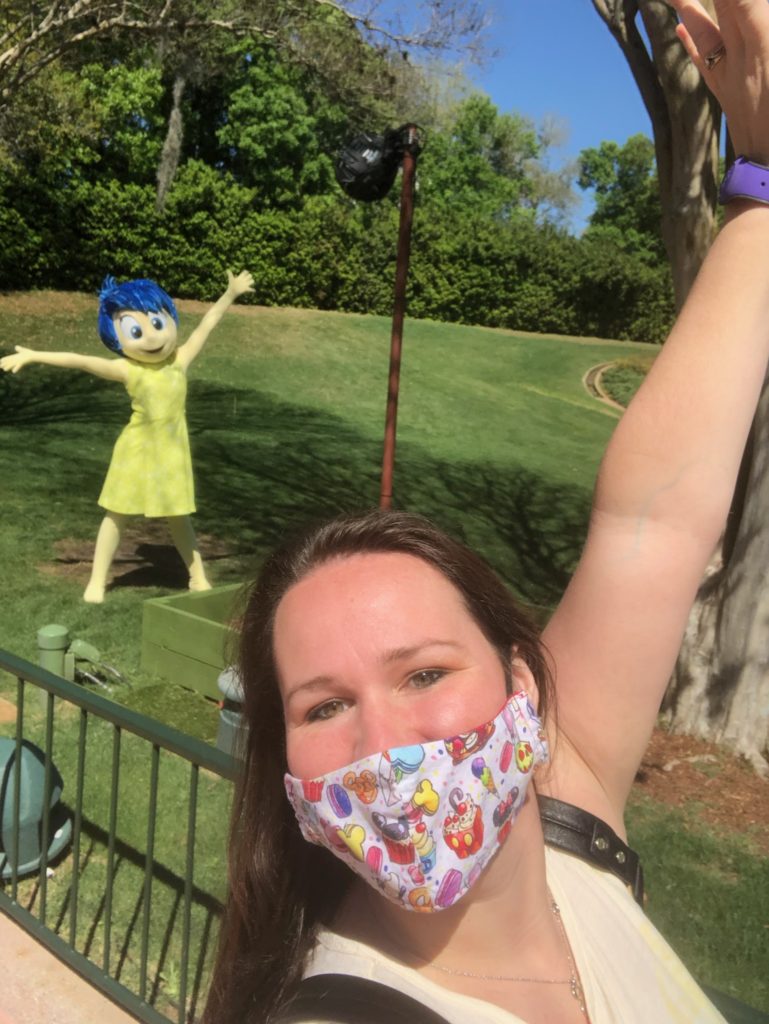 So, we have established that the parks are great at any age but what else is there? Today I want to share some of my favorite places to visit as adults when in Disney, the lounges! More specifically, the ones located around Magic Kingdom, since they are so easily accessible from the most Magical park on property. For our 15th anniversary my husband and I chose to visit Disney World to "relax by the pool." Between the Taste of EPCOT International Flower and Garden Festival, and the 60-degree weather this did not go as expected but that is fine. We improvised by hitting all 4 parks in one day and a few of the lounges I spoke of.
For an enjoyable progressive dinner, I recommend starting at Enchanted Rose in the Grand Floridian Resort, then jumping the monorail to the Polynesian Resort to visit Trader Sam's Grotto or the Tambu Lounge, and finishing up at the Contemporary Resort's California Grill. Or even do it like we did and spend some time in one or two of these after a long day in the parks.
To close our solid 11-hour park-hop tour, it was time for a cool down before we collapsed into bed for the night. Our first stop was the California Grill on the top floor of the Contemporary Resort. There are actually a few nice places to slip away from the kids at the Contemporary but on this night, we decided to try our luck at getting a walk-in seat at one of the nicest locations on property. Pixie dust rained on us and we were immediately sitting at the bar upstairs and chatting with the bartender, Ray, who offered to take our photo with the lit-up castle behind us. My husband enjoyed a Mai-Tai while I opted for the crème brulee (a wonderful option in my opinion). It was truly decadent and served on a bed of white chocolate with strawberries, yum! There is also an extensive wine list for the sommeliers in the group.
If you want a more laid-back atmosphere, then the Wave and Outer Rim Lounges are other options at this resort. We have tried the Wave before and found the chocolate martini to be a strong contender when I am looking for a sweet end to my day. This location is truly a contemporary theme with its calming colors and edgy lighting that can just as easily attract guests in their 20's or 60's. We haven't yet tried the Outer Rim, but it is on the list.
If you are a Disney Vacation Club member then you would be remiss to skip out on the Top of the World Lounge, another excellent spot. It is accessible only to DVC members which offers that extra level of exclusivity that we all appreciate.
Whether it is the California Grill or the Top of the World, scheduling yourself in one of these areas during the fireworks (when running) is a beautiful choice where you can experience breathtaking views as well as music pipped in from the park to coincide with the fireworks. No sitting outside in the cold with a million of your closest friends this night. Plus, you can avoid the mad rush that is everyone trying to leave the park since you will already be sipping your libation and enjoying the peace. As an added bonus, several nights a week you can also view the Electric Water Parade from these locations as it floats by. This is one of the only "parades" still operating during Covid.
For our final stop, we caught the monorail across the lake to my favorite resort, the Grand Floridian, for one final cocktail before we prepared our minds to return home from our magical weekend away. The Enchanted Rose is my all-time favorite lounge and our special place when we visit Disney World. This location is based on Beauty and the Beast and set back in a corner of the resort where most people will walk right past it. I cannot rave enough about the Rosemary Cooler, a lemonade-based concoction hosting a splash of vanilla and a sprig of rosemary, add a shot of rum and you will thank me, I promise. A few sips into this drink and all is well in my world. My husband's poison of choice is the sunny margarita which he feels equally strong about. If you are hungry then also check out the truffle fries, brisket sliders, or crab macaroni for a good time.
As I alluded to before, starting at the Enchanted Rose is my favorite spot on the monorail for a drink and appetizer. Once you finish there, take the train in the sky to Polynesian and visit either Trader Sam's Grotto or the Tambu Lounge. Here you can get the signature Lapu Lapu, a rum filled libation that comes served in a pineapple. Another good option is the Keiki Lemonade (add rum again if you are traveling with me) and pair either drink with some pot stickers, chicken wings, a California sushi roll, or even some Hawaiian pork ribs. See why I put it as the main course??? Then end up at either California Grill or the Top of the World Lounge for dessert and thank me later.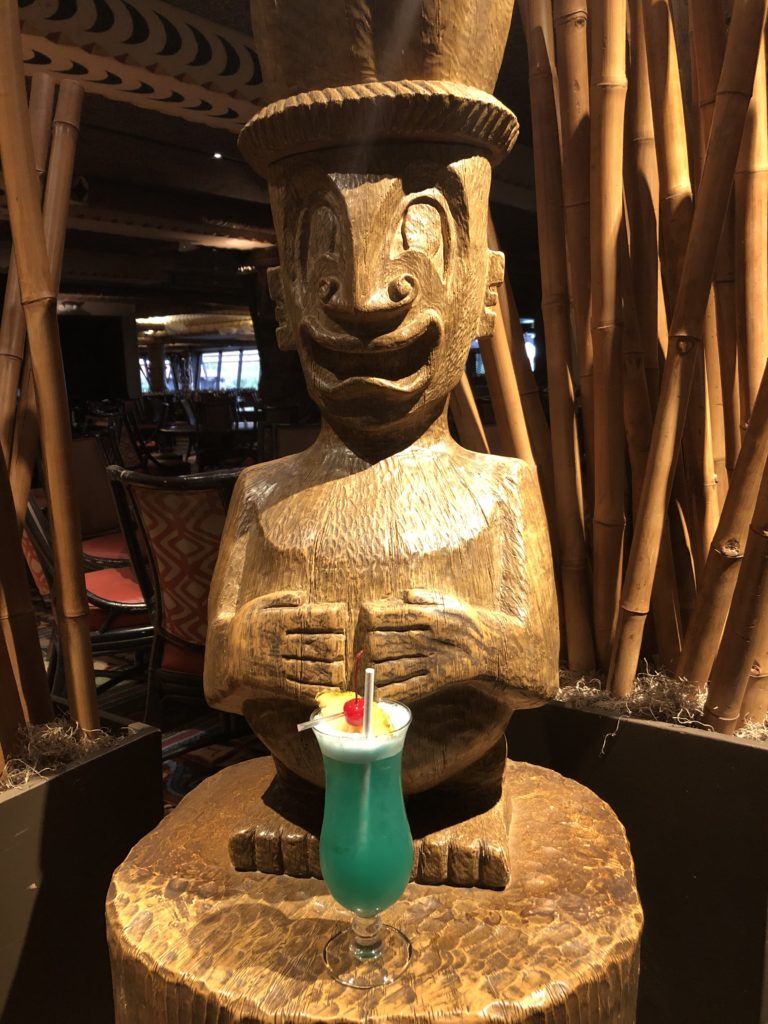 The last place I want to share with you today is my favorite lunch in the Magic Kingdom. It is called Geyser Point and serves up a bison burger, brisket nachos, a sunrise margarita, and a fabulous cocktail known as a Banana Cabana. Want to know the funny part? It is not in the park at all but rather a short boat ride away. To get to Geyser Point you must exit the Magic Kingdom and board one of the boats to the Wilderness Lodge Resort. This 10-minute ride is a welcome relief (for both adults and children) after the hustle of a morning in the park. You are taken across the lake and through the trees before you exit into a natural wonderland featuring a waterfall and an active geyser fit for Yosemite National Park! Geyser Point is an open-air bar and grill located directly on the water's edge, far enough away from the noise and chaos that you recently escaped but close enough that once you are ready for round two you can be right back in a matter of minutes. While you are there say "hi" to my friend Daphne the duck, she will most likely be the one begging you to drop a fry or three.
Next time you are back in the magic and looking for a new experience, I hope you try one of these locations and enjoy it as much as I do. Just make sure to leave a seat for me. If you are looking to plan that magical trip with a loved one, friends or the whole family, I'm ready to help! Contact me HERE and let's start creating some magic!!!