All airport hotels are not created equal. Let's face it, airports are not in the most glamorous parts of cities and at times can be scattered with sketchy hotels. However, a tried and true family favorite of ours is the SpringHill Suites by Marriott line. We first stumbled upon this gem a few years ago in Baltimore, however, after recent refurbs, it might be one of my favorite hotels to stay in. We experienced those in Exton, PA this past winter for an early morning ice hockey game. This time around, we stayed in Philadelphia.
Upon arrival, we were cheerily greeted by the front desk staff, who zipped us right through check in and also offered up local takeout/delivery menus since it was close to dinner time. It's like she could read my mind that I knew a quick, speedy dinner was on the horizon for our crew.
As a family of five, the biggest challenge we find is finding a single room to fit us. Two rooms can get costly for one night. Our room was very modern and super spacious. The living room area boasted a West Elm oversized couch that had a sheet set in the closet for a kiddo to sleep. There was also a trundle that pulled out, allowing for a second sleeping spot. A desk divider separated the living area from the bedroom, which had two queen beds. So realistically, a family of six could sleep comfortably. The bathroom was a split design (bonus!) and there was also a small kitchenette with mini fridge, coffee maker and microwave. Perfect for one night!!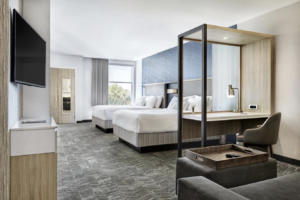 We didn't get to experience any of the other hotel amenities but breakfast is offered 7 days a week complimentary (and I recall from a past stay that it was more than just continental- love a free, hot breakfast to get us going!!). There was also a bar open in the evening, indoor pool and my favorite- free shuttle service to the airport. We did the park n fly package and the hotel in Philly is a mere 3 miles from the airport.
Overall, I highly recommend the SpringHill Suites for a pre-trip stay and will be recommending this one to all of my clients!! I feel like for the location, cleanliness, space, convenience and value, it's a homerun!!!!
Locations: